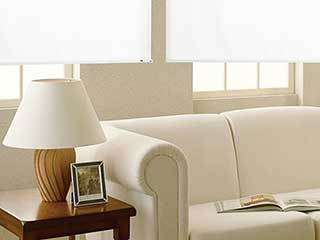 While there may be a wide array of window coverings to choose from for your property, Master Blinds - Somfy Motorized Expert is here to help you find the right fit! One of the styles that's very popular is blackout blinds. They help to create complete darkness as needed and also ensure privacy. With our free consultations, you'll discover the right type of blackout window treatments to suit the space without hassle. Each set of blackout blinds is made to your windows' specifications as well. So you can rest assured that there won't be any gaps for light to sneak through.
Motorized Blackout Blinds For Your Santa Clara Home
Tired of frustrating manual strings on your window treatments that get tangled? They can become difficult to use, especially with kids around. So, trade them out for motorized blackout blinds instead! Rather than need to fuss with adjusting your window coverings trying to get them even, press a button on a remote or swipe with a smartphone app to open and close the motorized blinds with ease. Neither your children nor pets will be able to play with the strings and wear out your blackout blinds! Instead, you'll have complete darkness in any room you choose, all under your control.
Enhance Your Office with Blackout Blinds
It's important to achieve peak efficiency in any Santa Clara office space, and you might be surprised to find that the right set of window coverings can affect this! If you don't have the correct window treatments, your employees may be struggling with glare on their monitors that hurts their eyes and slows them down, along with hard to see presentations due to sunlight streaming in. Our blackout blinds can fix these issues, and more! Not only will they completely eliminate glare, and plunge meetings into the darkness needed to easily view PowerPoint presentations and other important demonstrations, but they give assured privacy as well for personal offices and boardrooms.
Reduce Energy Spending with Blackout Skylights Blinds
Direct sunlight coming into your home for long periods can not only bleach your furniture, but it causes the temperature of your home to fluctuate as well. Improperly covered windows don't insulate as they should, and things like your sliding glass door or skylights tend to be the culprit. However, you don't have to worry about this any longer with our experts' help! We have blackout blinds specifically tailored for Santa Clara patio doors, so you can close out the sunlight whenever you need to. Blackout window treatments for skylights can help you reduce the indoor temperature when closed. That means less energy spent on cooling your interiors, and less money spent in the long run.
Blackout Bedroom Blinds in Santa Clara
Perhaps one of the most important areas for blackout blinds to do their best work is in bedrooms! Poor sleep can lead to a lot of problems, and disrupting lights from outside at night can be a factor in this. However, with our blackout window coverings, it won't be an issue any longer! Our blackout window treatments will completely close out streetlights, passing cars, and even daylight if you need to rest during the day. Contact Master Blinds - Somfy Motorized Expert to arrange for a free estimate appointment at any Bay Area address nearby.