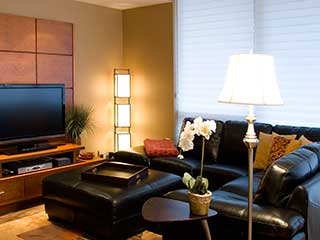 Searching for the perfect set of window coverings for your home or office? The search doesn't need to be a struggle! Master Blinds - Somfy Motorized Expert has a huge array of styles to look over and choose from. With help from our team, you'll easily find something within your budget. Roller shades are especially popular thanks to their compact nature and customizability. This makes them complementary to virtually every space! You'll have no trouble fitting them in with every room in your home. From your child's dinosaur bedroom to the living room. There's more information about the different types of custom roller shades we make below:
Diffuse Natural Sunlight With Sheer Roller Shades
For some, there is no better lighting style than what comes naturally from the sun outside. Especially in comparison to harsh artificial lights! Unfortunately, direct sunlight can cause problems for one's home. It can fade the color of furniture, books, wallpaper, and other belongings if they're hit with it too long for too often. It also causes the temperature to rise. That can create a drain on energy thanks to the AC running in response. Sheer roller shades can put a stop to both issues, while still allowing for natural light into your Santa Clara home (or business). The sun filters through the translucent fabric, reducing the heat and keeping out nasty UV rays. On top of this, they give any room a fresh and flowing feeling!
Remote Control with Motorized Roller Shades
Anyone who has manual strings on their window treatments, along with kids or pets, knows that those strings are their favorite things to play with. Unfortunately, they're also easy to tangle. Corded blinds can cause the window coverings to get stuck at a strange angle. The strings can even be dangerous for children and animals alike! That's why motorized roller shades for Santa Clara windows have become a very popular choice. It erases the need for the strings, as well as allows you to adjust your roller shades without interference from little grabbing hands. Whether you like remote controls, wall sensors, or want to operate your motorized roller shades from a smart device – you can get it. We here at Master Blinds - Somfy Motorized Expert make every setup made-to-measure, with custom remote control blinds feature you choose.
Santa Clara Blackout Roller Window Treatments For Windows or Walls
You can never underestimate how important sleep is to your health, nor how much outside irritants can affect it. From an annoying street lamp outside to car lights intruding now and then, these interruptions can do a number on your sleep schedule. Our professionals recommend blackout roller shades to take care of the issue. We create the shades made-to-measure for each window's specifications. This means no cracks of light will get through the blackout roller shades or from their sides. The custom size allows for coverage of the entire window, door or wall in question. Blackout roller shades work great for skylights too, in Santa Clara bedrooms and all over the bay area.
Cheap Roller Shades For Santa Clara Area Windows
Rather than deal with finding new window treatments for your home or office all on your own, consult with our professionals! Master Blinds - Somfy Motorized Expert provides every interested customer free estimates and in-person consultations at their home or office. We'll go over all the options with you, show you different samples, and recommend different features. You make the final decision on every aspect. Your new custom roller shades, motorized or cordless and manual, will look, work, and feel exactly how you want. Contact us and set up a free appointment to learn more.