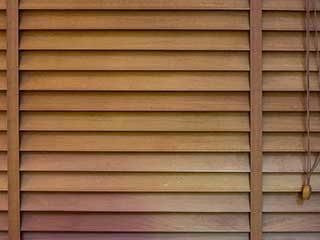 Having a beautiful home with eye-catching window treatments shouldn't have to be a hassle! Real wooden blinds are, of course, a refined look for any space. However, they also need plenty of tending to in order to remain in good shape. This isn't the case with our waterproof custom faux wood blinds for windows, glass doors, and even for skylights! These window treatments look like actual timber but prove far easier to maintain. They're also much cheaper! Get the best of both aesthetics and simple caretaking with our faux wood window coverings. You can learn the differences between the two and more here:
Are Faux Wood Blinds Better Than Real Wooden Ones?
Although you may figure you might as well get the actual wooden kind, there are several factors to take into consideration. One is cost, as real wood blinds are on the expensive end of things when it comes to window coverings. Even if your budget would allow for it, there's then the fact that timber is vulnerable to moisture. Water in the air, particularly in very humid areas, can damage wooden blinds in different ways, including swelling, and even rotting. To protect against this, you need to regularly protect these window treatments from moisture. Cleaning these blinds also requires certain cleaners to avoid harming the wood. If that sounds like too much work, then choosing to go with waterproof faux wood blinds may prove more your speed!
Best Faux Wood Window Treatments for Bay Area Customers
When you come to Master Blinds - Somfy Motorized Expert to get new window treatments, you know you're getting the best Bay Area shading solutions around! We work with you to pick the right material and imitation wood staining for your new blinds. That ensures they complement any required room. Rather than dealing with the heavy and inflexible nature of real wood, your faux wood window blinds will prove sturdy and also able to bend rather than break. The flexibility of vinyl offers a way to protect the vanes from breaking easily.
Low Maintenance Imitation Wood Blinds
Because they're crafted using vinyl, PVC (or other moisture-proof materials) faux wood blinds don't have the cracking rigidity of natural wood. They can stay functional for a long time even though they don't foster the same rigid structure. When you have new faux wood blinds custom made according to the measurements of your windows you also ensure your privacy. That means no light coming from the sides. The natural-like staining makes these blinds perfect for creating a variety of classic and homey décors. And you don't have to worry about moisture and maintenance.
Faux Wood Blinds Beautifully Complement Santa Clara Kitchens
The natural and warm feel of wood blinds make an excellent fit for your kitchen, but putting in window coverings made of real wood is a big risk. Splattered liquid or oils from cooking, or even steam, can damage them before you know it. Thankfully, the same isn't true of waterproof faux wooden window treatments! They won't have any problem holding up against whatever you may accidentally throw at them and are simple to clean up too. When you choose to get faux wood blinds installed on your Santa Clara kitchen windows, you can get beautiful and moisture resistant solutions that elevate the décor significantly.
Call To Schedule Your Free Consultation
Our imitation wood blinds offer Santa Clara and all other Bay Area cities near the area an affordable and beautiful shading solution for homes and businesses. The Master Blinds - Somfy Motorized Expert team can't wait to help you get started on picking out the best fit for your home to give it a fresh new look! We offer both free consultations, and free estimates as well. Whether you like our faux wood window blinds or want to hear about other options, our experts are here to help. Reach out to us to schedule your appointment!