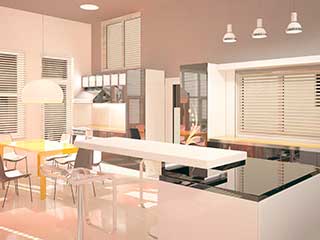 Master Blinds - Somfy Motorized Expert is here to provide a wide array of different Venetian window treatments to tend to your needs! Whether your bedrooms at home could use a new look, or your business needs coverings for functionality, we can assist you. With our free consultations, you'll be able to easily determine and order what you want in no time, and we'll custom make them for you! One of the many styles to pick from are Venetian blinds, which make great additions for small to mid-range windows. You can find these classic blinds on all sorts of bay area windows. And for a multitude of good reasons!
Motorized Venetian Blinds You Can Trust
Having to manually open and close your window coverings throughout the day can be a huge hassle, but it doesn't have to be! Installing motorized Venetian blinds into your home will immediately simplify your lifestyle. From Wi-Fi capability that allows you to operate your new Venetian treatments from your smartphone to sensors that will move them for you according to your settings, you won't have to worry any longer about fussing with unwieldy manual strings. It may surprise you to know it can help you save in energy spending as well by keeping your Santa Clara home's temperature more consistent!
Faux Wood and Real Wood Venetian Blinds For Santa Clara Windows
For the epitome of elegance and class, our wood Venetian blinds are the way to go! Our experts can assist you in finding the right shade of wood staining to match the area, from the front room where visitors can ogle them, to your bedroom for your own enjoyment. We'll also help you weigh the pros and cons of both faux wood and wood Venetian window coverings so you can decide what's best for your lifestyle! No matter if you're interested in the beauty of real wood and don't mind the maintenance, or like the affordability and low maintenance of faux wood, we've got you covered.
Blackout Venetian Blinds – Privacy and Calm All in One
Blackout Venetian window treatments may be just what you need if you're tired of light seeping through your current coverings and waking you up, or causing glare on your TV! Blackout Venetian blinds specifically block all light, period, hence the name. Thanks to our professionals making them according to your windows' distinct measurements, there won't be any gaps either! This style also assures privacy for places like the bathroom, or bedroom, from any prying outside eyes. There are a variety of materials available as well, so you won't have any issues matching them to the space.
Santa Clara's Best Metal Venetian Blinds and More
Our team is here to help you find the right set of Venetian blinds for your specific needs, which is why we'll go over everything with you. Need the option that won't break the bank? Metal Venetian treatments would be best, or aluminum for something sturdy. Would you rather be able to keep them clean without much hassle? Try our PVC or vinyl Venetian coverings! Whatever you're searching for, you'll find it here! Call to schedule a free in-person consultation appointment on Venetian blinds in any Santa Clara address or nearby bay area cities.