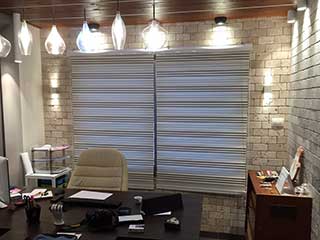 Finding window blinds or roller shades that add a touch of décor to your property means looking through a lot of design samples. But one of the most important aspects of window treatments is their operation. While in the past the manual method was the only way, nowadays, the situation has evolved. Motorized blinds and window shades have become the most popular option for residential and commercial properties all over the Bay Area. Whether you're in Santa Clara or nearby, our motorized blinds professionals can help you customize your new window coverings to have a variety of remote control options.
Motorized Blinds – Pros & Cons
So let's discuss a few of the general factors that determine whether or not you should get motorized blinds or shades installed. First of all, money. Yes, motorized blinds will cost more than their manual counterparts. That's a given, seeing as how they also require a motor, some type of signal receiver, and a slightly more complex setup process. But with smart motorized blinds that you can optimize to brightness levels, in the long run, your automatic window coverings can end up paying for themselves in energy efficiency. Now let's talk about safety and convenience. With motorized blinds, you have no dangling cords that present entanglement hazards. No unsightly strings or anything like that falling down from the blinds. And as far as convenience goes, you already know the answer. Controlling your motorized window blinds from anywhere trumps any manual variation out there.
Motorized Roller Shades – Blackout & Sheer
One of the most popular types of motorized window coverings, roller shades can add a straightforward shading solution to your Santa Clara home or office space. The rolling shades simply cover the window to a certain extent (which you decide on and can adjust at any point). That means that can add color to the indoor vibe, but present a straightforward look that doesn't seem overbearing. With blackout roller shades, motorized, you can draw the window covers from the comfort of your bed. With seer motorized roller shades, you can increase or decrease indoor brightness levels at any point. This without completely eliminating sunlight. Instead, the sheer fabric will diffuse and soften it, washing the indoors with warm, colorful light.
Santa Clara Remote Control Blinds Options
So what can you get when it comes to motorized blinds? Well, a lot. The choices for remote control blinds improve just like any technology. You can get Wi-Fi motorized blinds that you can then connect to with your phone or tablet devices. The same goes for Bluetooth. You still have the option to get a designated remote control handset or wall switches too, of course. Your motorized blinds can utilize a range of remote control products to operate in a multitude of ways. Consult with an expert from Master Blinds - Somfy Motorized Expert to learn about all the available choices.
Custom Motorized Blinds For Santa Clara
There's a lot of customizability with automatic window treatments. From the materials used to the different blinds remote control features to the custom dimensions of the covers. Do yourself a favor and get a free estimate from Santa Clara motorized blinds installers in your area! Call us to set up a free consultation and you'll get all the info you need to choose new automatic window covers.