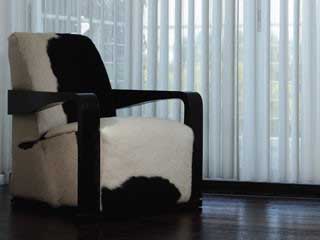 Bring beauty and comfort to any room with our huge selection of vertical blinds for doors, windows, and skylights. The Master Blinds - Somfy Motorized Expert team takes pride in delivering top quality at every stage of the journey. We take you from designing your new window coverings all the way to the vertical blinds installation. That means you're always in safe hands, and you can be sure you're getting the best custom made vertical blinds in the Santa Clara area. Our prices are always low, too, which means you'll always get top service at a great rate. To find out more about our selection of vertical window treatments, give us a call and schedule a free consultation appointment. We'll provide samples of our entire collection, with no obligation to make a purchase.
Vertical Window and Door Treatments
Vertical window treatments make for some of the most flexible shading solutions for any Santa Clara window or door. Their versatility means getting them custom made for specific sizes and dimensions is easy. Master Blinds - Somfy Motorized Expert offers an enormous variety of different ways to customize vertical blinds for windows and glass doors. With a range of colors and textures, finding something that adds to and complements your interior décor will be fun.
Huge Range Of Vertical Blinds
You start from the very beginning, choosing whether you want vinyl, aluminum or wood vertical blinds. Decide on the width of the vanes, the size of the blinds, the color, design, and even the operation method. The only limit is your imagination, which means no matter what your vision is we can help you bring it to life. You can combine different elements too, opting for vertical blinds with curtains to provide a little extra privacy and protection from the sun. If you're in the Santa Clara area, we're ready to provide an in-person consultation. Simply call us to set up a time that suits you.
Custom Vertical Blinds At Affordable Costs
Every room in your property can benefit from getting the right window coverings. You might not realize it, but poorly-fitting blinds and curtains make a room hard to feel comfortable in. They let in too much sun, or too little, and they can be difficult to use. In addition to all this, they might just not look very good! So why put up with them any longer? We offer cheap deals on a huge range of custom vertical blinds. Choose vertical blinds for sliding glass doors to get maximum use out of them. Our special designs let you easily use the door while still getting plenty of natural light protection. That's why vertical blinds for patio doors are such a popular addition to Santa Clara and nearby sections of the San Francisco bay area.
Great Vertical Blinds Deals In Santa Clara
The benefits of high-quality vertical window treatments don't just come from their beauty and ease of use. Cutting out unwanted sunlight can bring real benefits, which is why we here at Master Blinds - Somfy Motorized Expert recommend vertical blinds for office windows. Giving employees protection from the sun means it's easier to concentrate, helping to maximize productivity. We also stock a wide lineup of wireless and wired motorized vertical blinds, with many different control options. Get in touch with us to book a free estimate on motorized vertical blinds or various manual cordless versions. We'll happily send our experts over to introduce you to our wide collection of custom shading products.