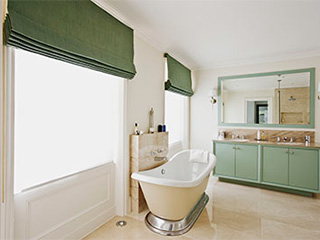 If you're reading this page, then you're looking for some high-quality and decorative window treatments in the Santa Clara area. Roman shades aren't the only good option, but few others are as ornate and luxurious looking. What are Roman shades exactly, you might be wondering? Unlike roller shades or blinds, these fabric sheets fold into ribboning pleats as you pull them open. When part closed, they have a gentle rippled texture. When opening all the way, the Roman shades condense into a bowlike stack of deep pleats below the window's upper frame. Almost any room can benefit from the beauty of Roman shades, provided the windows are tall enough to give them the space they need!
Any Color Of The Rainbow
Gray Roman shades, white, purple, or any other shade or hue! Our custom design process is flexible above all else, and we can match any combination of color, fabric type, and embellishments. A set of Roman shades for the bathroom might be pristine white, or cream-colored if that matches the tiles. In a bedroom, you'll want deep blue, purple, or black, to help rest weary eyes. Our interior design consultants provide a free visit with each purchase. You won't make a bad choice with Master Blinds - Somfy Motorized Expert!
Any Room In The House
As long as it contains a tall window or even a tall doorway with a large transparent section, a room can use this type of shades. French doors with Roman shades, in particular, are popular since they have plenty of room over their panes and a matching palatial aesthetic. Roman shades for kitchens and dining rooms, foyers and hallway windows, it can all work perfectly well! Homes aren't the only buildings that can use these window treatments either. Santa Clara offices, hotels, restaurants, and other workplaces have also ordered our custom Roman shades!
Classic Roman Shades, Or Motorized?
With traditional sets of Roman shades, you use a hand-drawn cord to raise and lower them. If you want to save time and energy, or if you have small children who drawcords aren't safe for, you can also go automatic. Motorized Roman shades use an electric motor to open and close, and you can control them with a remote handset, wall console, or computerized system. Smart shades are super reliable, as well as convenient and child-friendly. You can have your motorized Roman shades raise and lower themselves automatically every morning and evening. We can also plug in some of our solar sensors, and they'll even react to Santa Clara's changing weather patterns!
Customize Your Roman Shades Even Further
Tails, tassels, slits, and other ornamentation goes great on these rippled shades. If you want something even fancier, try relaxed Roman shades. This variation hangs down in the middle so that the lower hem is a gentle, drooping curve. You can also match your Roman shades with curtains, valences, or another secondary window treatment. Add a lace trim, some embroidery along the pleating lines, or put an external blinds set underneath. Your wish is our command!
Santa Clara's Best Source For Roman Shades
Our free in-person consultation appointments mean that you get a free quote along with our experts' advice before making any purchase. Once production is finished on your new Roman shades or other window treatments, we also deliver and install them at your Santa Clara residence or businesses. Learn more about what we can do for your window covering needs by calling and scheduling an appointment today!